How the Velositianz ushered the festive Onam!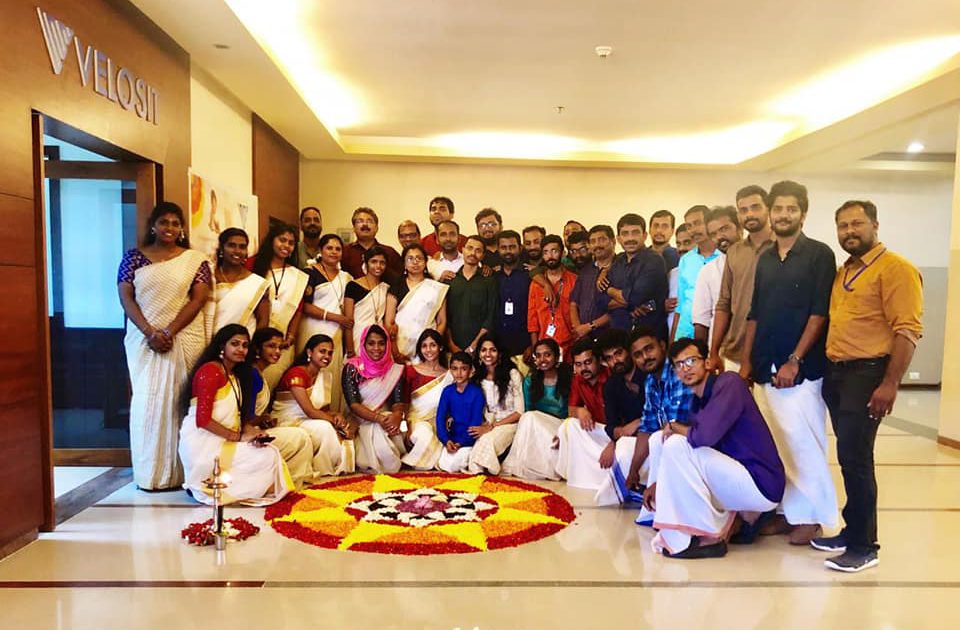 – 6th September 2019
Every Keralite can hold their head up high when they hear of Onam as it is the most festive season of the natives. Floral carpet (athapookalam), thiruvathira kali of the damsels, the scent of jasmine flowers on big sale around with their rocket shoot prize, banana chips, different varieties of payasam and the sumptuous sadhya on the plantain leaf embraces the arrival of the Onam season! The Velositianz too couldn't lose this opportunity of celebrating the highly caparisoned festival in all its spirit.
The day was well started by playing the Onam hymns at the office and the colleagues started arranging and decorating the office with floral carpet at the entrance, in turns. It was visually attractive to see all the ladies and men in ethnic wear: ladies in kasavu saree and kasavu mundu and gents in a colourful shirt and kasavu mundu! By noon, all departed the office and left towards SFS Cyber Palms, Karimanal, near MGM School, Thiruvananthapuram, for the Onam celebration.
No Onam is complete without the thiruvathira kali. The program was kick-started with a 10-minute thiruvathira kali by the 12 member group of the lady staff. Then time was devoted to different games like the musical chair, lemon & spoon, Malayali manga and various other interesting activities. The Onam sadhya is the soul of the Onam celebration. With different varieties of payasam, curries, pickles & pappad, the Onam celebration was served well enough! After some funny moments of bursting jokes and joyous chats, all were back to their seats for some other entertainment activities. The program summed with the prize distribution and Onam wishing among the employees themselves.