Christmas celebrated with all fervour and pleasure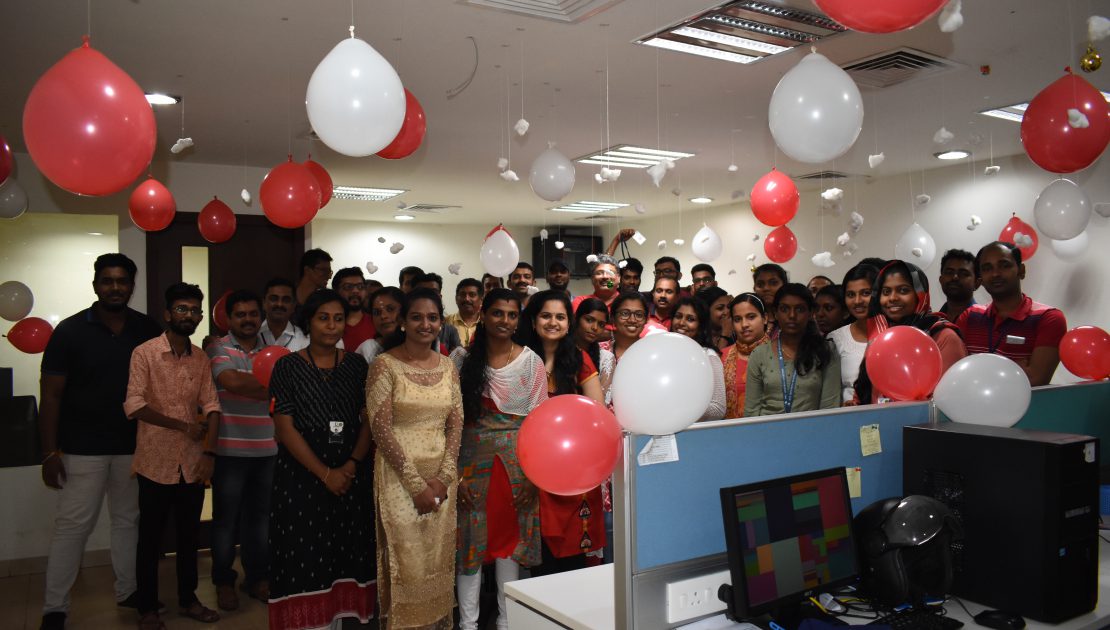 – 20th December 2019
Oozing out from the busy schedule, the Velositians had a great time to cheer. Decorating the office and cubicle with red and white balloons, twinkling stars, Christmas tree and illuminations, Christmas was all set for the Velositians. Draped in red and white attires, the Velositians made the environment more lively, meaningful and attractive. The Christmas was celebrated with great pomp and pleasure at AL SAJ hotel, Kazhkootam, Trivandrum on the 20th of December, 2019. Starting at 1 pm, food was, of course, the best idea to start with. The Velositians were served with sumptuous luncheon of the buffet including rich delicacies, sweets, and juices. Christmas could not be ended with just munching and relaxing. It meant something more !!
THE EVER FESTIVE CHRISTMAS
After lunch, time was devoted to a public gathering. A song was pleasant to start with. Ms. Sophia Baby and Ms. Ashee Saju came forward with a melodious Malayalam song. No matter how aged you one, games always find a role in everybody's life. Games were the next section arranged for the celebration. Different games like candy elevator, balloon inflating, balloon bursting, etc were coordinated under the leadership of the HR manager Ms.Thanseena Shaji. All the employees irrespective of their designations put their hearts into it to turn the event into a memorable one. The winners of these games were appreciated by different gifts. Cake and wine finds a seated honour at Christmas and so did Velositias too. The enjoyments winded up with serving cake & wine and Christmas wishes by the employees between themselves.